Fabric Giveaway Sponsor
Christa at
Christa Quilts
is an avid quilter and
blogger
! She chooses
fabulous fabrics
that she loves and thinks you will too. She has made the store easy to navigate with many ways to find your perfect fabrics and supplies.
Inventory Blowout Sale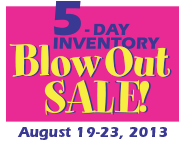 Take advantage of Christa Quilt's inventory blowout sale which ends TODAY!
And don't forget these special deals offered every day at ChristaQuilts.com:
Concerto Print Pattern
Did you know that you can purchase my Concerto pattern in a printed version? The printed version is sold at select quilt shops and Christa Quilt's is one of them! I don't believe I have even shared this fantastic news. The printed version is like a mini book printed on quality #100 paper.
Fabric Giveaway Prize!
Christa Quilt's color bundles include a variety of colorful fabrics, individually chosen by Christa. She use these bundles in her own quilts, and they are a great way to get color into your stash, without breaking the bank!
This week Christa Quilt's is giving away a Fat Quarter Bundle of a Color Bundle (winner's choice) to one lucky Pile O' Fabric reader. Which one is your favorite?
Enter To Win!
GIVEAWAY CLOSED… The Winner is  Jesica Wulfson!
Here's how, using the Rafflecopter Widget below follow the steps. First step is to check out Christa's inventory blowout sale and tell me what catches your eye.
*NOTE – If your comment doesn't show up immediately there is no need to re-comment. On giveaway days my commenting system thinks I am getting spammed with the mass amount of comments in a short time, so it sends some comments to moderation automatically. Your comment will show as soon as I can go through all the comments and approve them.
For Bonus Entries
This giveaway will end Wednesday, August 28th, at 12 a.m. EST. Mr. Random will choose one winner and I will announce their name Wednesday on Facebook and Twitter and I will email the winner directly. * Note * This giveaway is open to anyone near or far.
Have a great weekend!
a Rafflecopter giveaway
Alyssa