Raceway Quilt // 30 Quilts for 30 Years
Robert Kaufman is celebrating it's Kona Cotton 30th anniversary the whole month of November with a fun blog hop. Each day, one of the 30 quilt designers for the "30 Quilts for 30 Years" will share their inspiration and process for making his/her Kona quilt and each designer will be hosting a Kona giveaway!
I am honored to be one of the 30 designers included in this great celebration. I was really excited when RK contacted me earlier this summer to see if I would like to design a quilt for the Kona Cotton Lookbook. I have a sketchbook full of ideas for quilts and I have found that deadlines are the perfect motivation for me to actually get a quilt pattern done.
Meet The Raceway Quilt
When I first begin quilting I was immediately attracted to quilts with curves and naturally when I began designing quilts I was constantly coming up curvy designs. In the past years I have explored and experimented with many different ways to piece curves using pin, no pins, using glue, using a special piecing foot.
I attended a Piec-lique class at the PHXMQG taught by award-winning quilter Sharon Schamber. Piec-lique is a technique that makes curves piecing so much easier and fun. It reminds me a little of Dale Flemings Six Minute Circle, but Piec-lique takes it further than just circles, it is a little more precise and makes pretty much any curve possible. I pieced the Raceway quilt using this Piec-lique technique and the pattern includes written and video instructions to help you piece it this way too, no more pins!
When I am designing a quilt I always imagine it first in solids. For Raceway I wanted something really bright, saturated, and fun. One of the things I really love about Kona Cotton Solids is that there are 300+ colors for me to choose from. What designer wouldn't love that freedom?! However, choosing colors was not easy I went through quite a few mockups before I settled. Here were some of the ideas…
I finally settled on Kona Cotton in Nautical, Charcoal, Cerise, Chartreuse, Teal Blue, Coral, Red, Brt. Peri, Crocus, and Breakers. I particularly love the blue background. For my sample quilt I made a 60.5" x 60.5" throw size, but the pattern comes with instructions to make the quilt in a wall, crib, throw, twin, queen or king size. The pattern also comes with instructions for a coordinating racing stripe backing!
I usually like to machine quilt my own quilts, but considering the super quick deadline I decided to send the Raceway quilt to a professional long arm quilter. This was my first time sending a quilt out and I could not have found a more perfectly suited quilter for the task. The Raceway quilt was beautifully quilted by Sarah Wilson of Crinkle Love. Her quilting really brought my vision for the design to life and I could not have done it without her!
Get the Pattern
The Raceway pattern was published by Aria Lane (my sister pattern publishing company), but can be purchased here in our shop at Pile O' Fabric. We sell a pdf and printed version as well as quilt kits and supplies to make the quilt.
Giveaway 
As a thank you for stopping by and learning about my quilt and in celebration of the 30th Anniversary, Robert Kaufman and I would like to give you all a chance to win a charm pack of the New Kona Cotton colors as well as a printed version of the Raceway Quilt Pattern.
Enter To Win
To enter to win leave a blog post comment and tell me what your all time favorite Kona Cotton color is. I will randomly choose a winner on November 3rd and announce the winner on Facebook and here in this blog post. 
Also, keep your eye on the Robert Kaufman quilting blog, swatchandstitch.com for details on their great big giveaway concluding the blog hop on December 3.
Blog Hop Schedule
Be sure to stop by each blog throughout the month of November and learn all about the story behind each of the 30 quilts. Here is just a little teaser of one of many of my favorites! 
Smithereens by Carolina Patchworks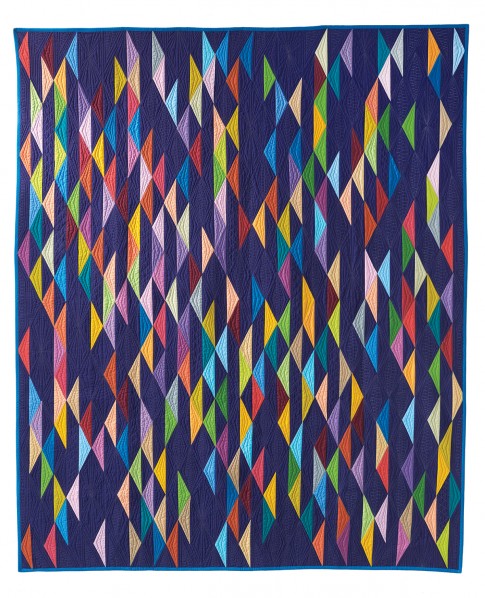 Here is the schedule:
Week 1:
Saturday, November 1st: Johanna Masko
Sunday, November 2nd: Alyssa of Aria Lane
Monday, November 3rd: Dorie of Tumblingblocks
Tuesday, November 4th: Megan of Canoe Ridge Creations
Wednesday, November 5th: Daniela of Cozy Quilt Designs
Thursday, November 6th: Faith of Fresh Lemons Quilts
Friday, November 7th: Anita Grossman Solomon
Saturday, November 8th: Debbie of Esch House Quilts

Week 2:
Sunday, November 9th: Alex of Teaginny
Monday, November 10th: Darlene Zimmerman
Tuesday, November 11th: Nichole Ramirez
Wednesday, November 12th: Rita Hodge of Red Pepper Quilts
Thursday, November 13th: Lee of Freshly Pieced
Friday, November 14th: Julie of Jaybird Quilts
Saturday, November 15th: Latifah of The Quilt Engineer

Week 3:
Sunday. November 16th: Elizabeth Hartman
Monday, November 17th: Erica of Kitchen Table Quilting
Tuesday, November 18th: Karrie of Freckled Whimsy
Wednesday, November 19th: Valori Wells
Thursday, November 20th: Marilyn of Quilt Moments
Friday, November 21st: Cortney Heimerl
Saturday, November 22nd: Shayla and Kristy of Sassafras Lane Designs

Week 4:
Sunday, November 23rd: Shea of Empty Bobbin Sewing
Monday, November 24th: Carrie Strine
Tuesday, November 25th: Rachel of Stitched in Color
Wednesday, November 26th: Liz of Lady Harvatine
Saturday, November 29th: Carolyn Friedlander

Week 5:
Sunday, November 30th: Elizabeth of Don't Call Me Betsy
Monday, December 1st: Emily of Carolina Patchworks
Tuesday, December 2nd: Ken Kaufman
Wednesday, December 3rd: Grand Finale! 
Have fun and enjoy!
Alyssa